Introduction
If when attempting to register a credential, either centrally through the console from the Lifecycle page or via vSEC:CMS User Self-Service (USS), and an error occurs:
Cannot find a configuration for this smart card [1].
Then this is more than likely because the credential configuration is not yet added to vSEC:CMS. Follow the instructions in this article to add a credential configuration to vSEC:CMS for a supported credential.
Add Credential
From Options - Smart Cards attach the credential you wish to add. It is expected that the credential is not yet in the table list so it will be expected that an empty list will be returned similar to below example. You will notice that the credential serial number is auto filled in the search field. The console will try to filter for this credential but since none exists the table is empty.
Note
If an entry is found then there is no requirement to add a credential record and you should not continue with the instructions here.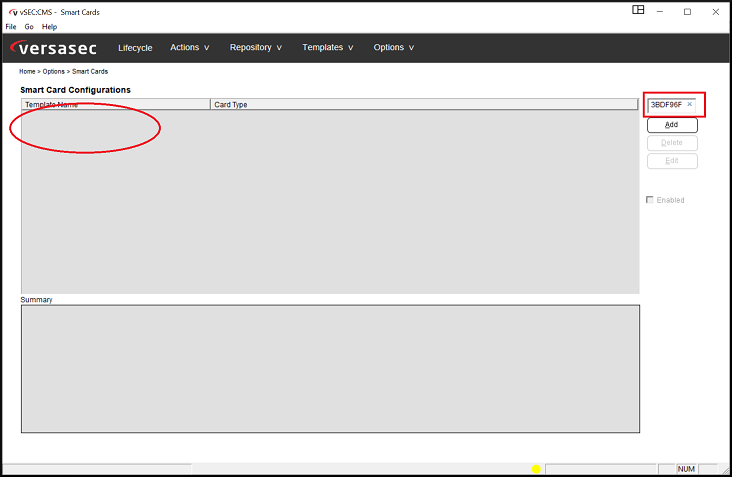 Click the Add button and then click the Add button again on the next dialog.
Select the credential in the Smart card in reader drop-down list and click the Get button. You should see something similar to below. Click Ok to continue.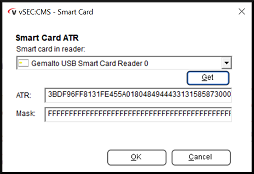 You will then see something similar to below depending on what credential you are adding, for example, below we are adding a HID C1150 credential. You should leave all settings as they are.
Click Save to save and close the credential configuration.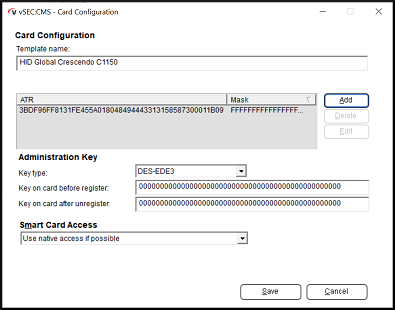 You should now be able to register and manage the credential.